Summer Update – A Report from the Field
Greetings Project Wezesha Supporters,
I had the great pleasure to spend part of May and June in Tanzania with our students and partners in Kigoma. I'm delighted to share some updates, stories, and photos. Please make sure to visit us on Facebook to see even more photos and videos!
Project Wezesha Recognized by the Government of Tanzania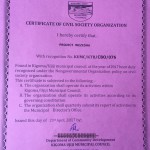 First, we're happy to report that we have registered Project Wezesha as a nonprofit organization with the government of Tanzania (see left). This decision was made so that we could additionally request for funding support from the Tanzanian government to accomplish such tasks as buying desks and chairs, finishing our STEM labs, and building additional toilets at Amahoro Secondary School. This will allow us to focus our international fundraising on our study camps and scholarship program.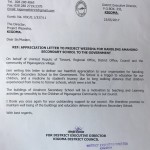 We also received a lovely letter (see right) from the Ministry of Education in Tanzania acknowledging us for the construction of Amahoro Secondary School, which was built for and with the communities in and surrounding Mgaraganza Village. After many years of working in this region, it is very validating for Lucas and me to be acknowledged by a government entity for our project – a project we couldn't have completed without your support!
Another Successful Study Camp
For the month of June, our students came back to Kigoma to board at Kichangachui Secondary School for Study Camp. The headmaster of the school – our partner and friend Charles – allowed us to convert two classrooms into dorm rooms (one for girls, one for boys). We also had the opportunity to use his classrooms and science labs for our students. We are indebted to Charles for his generosity and collaboration. I had the opportunity to meet with his female students (Form 2 and 4) to inspire them to continue with their educational endeavors with enthusiasm, determination, confidence, and an eye on justice for themselves and Tanzania broadly.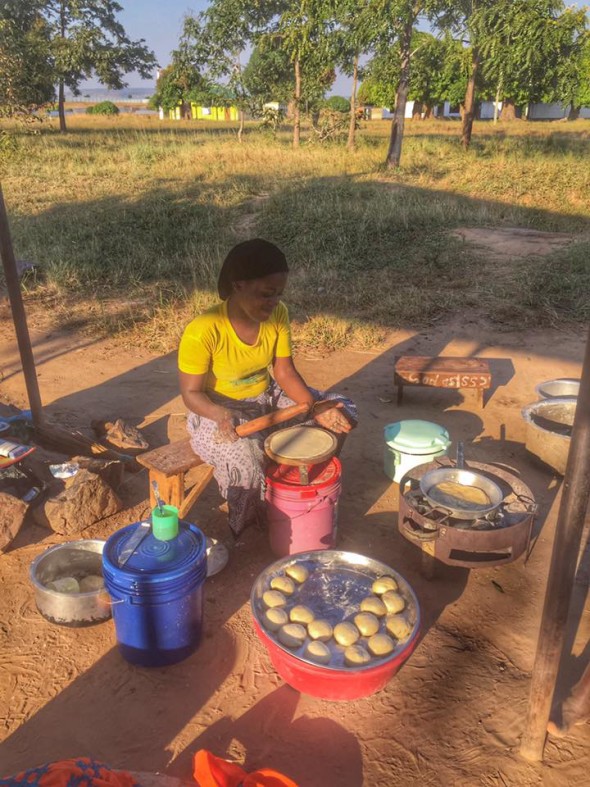 We hired the lovely Mama Amina for the second time to be our head cook and the "madam" on duty who stayed with our girls at night. The girls love her. She offered critical emotional and health-based support for some of our girls during the month. Many of our students are Muslim; Ramadan, a holy month of fasting, occurred during our camp. As such, our Muslim students ate before sunrise and after sunset. Mama Amina made sure that food was set aside for these students so they could stay nourished through Ramadan. We also hired an assistant cook because the job of feeding 45 students three times a day was quite demanding. Both Mama Amina and Furaha were happy to support our camp and make money doing so! Mama Amina spent some of her salary on her family's Eid al Fitr celebration at the end of Ramadan.
Before camp started, we met with all the teachers to coordinate schedules and make sure that the students had ample time to engage with each of their subjects: Chemistry, Biology, Math, History, Geography, Swahili, and English. This year, we hired teachers from Kichangachui and Amahoro Secondary Schools. They all have subject matter expertise and experience preparing students for national exams. Our students and I were excited that we had two women teaching in camp this time — Monica, a biology teacher from Amahoro Secondary School and Fedha, our Swahili teacher. We were also delighted that our students could have practical science lab experience (see photo), which most of them don't get at their regular schools.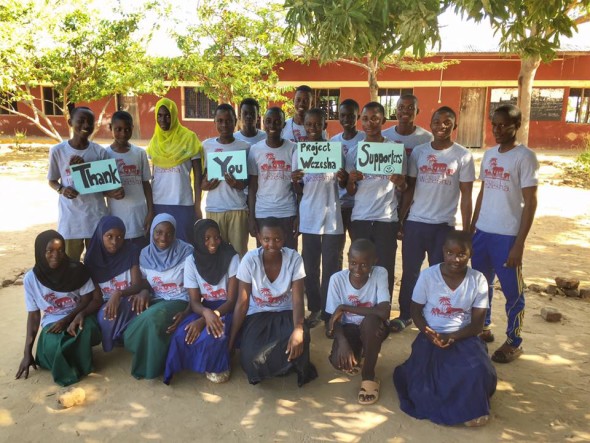 Our Second Round of High School Students
Some of our recent Form 4 graduates passed their national examinations with scores that secured their place in Form 5 classes (i.e., High School). We're happy to be supporting Ezra, George, Simoni, and Waridi as they prepare for High School, which starts next month. Part of that support included special tutoring hours during June to prepare for their upcoming subjects. We also bought scientific calculators and textbooks. These young men are planning to study challenging combinations including PCB (Physics, Chem, Bio) and PBM (Physics, Bio, Math). Our continuing high schooler, Albert continues in Form 6 this year – aiming for a strong finish with hopes of joining our university crew next year.
Will you help us continue this work?
At the moment, our projected budget includes another Study Camp in December, tutoring support for the girls who will be taking Form 4 examinations in October, school fees for the boys in Form 5 and Form 6, and of course, fees associated with supporting Dibeit, Tumsifu and Saidi as they head into University. Study Camp alone costs $3700. Form 5 fees are $300 per student. University fees are yet to be determined, but they will likely be around $2500-3000 if they all stay in Tanzania.
Now, more than ever, we'd love your continued support! Please share this report and other information about Project Wezesha with your friends and family. (Handy sharing buttons below.) Let them know about the work we're doing, our firsthand approach to sharing updates with you, and why you believe supporting us matters.
Please contact us if you have ideas for fundraisers that you'd like to launch. We are especially interested in motivating students to support students, so if you are a teacher, know a teacher or have a child in school – let's talk! Schools for Schools is rewarding for everyone involved!
And of course, we'd be grateful for any monetary contribution you can make at this time. Simply click "Give Now" here on our fundraising page – any amount helps.
Asante sana (Thank you very much),
Raichle (Rai) Farrelly
Co-Founder, Project Wezesha