Evidence of Impact – Sky's the Limit!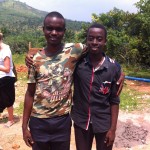 We are very proud to announce that as of Summer 2015, our three young men – Dibeit, Tumsifu and Saidi found out which high schools they will be attending starting July 18th. School assignment is based on secondary school exit exams, and the fact that these three are going all over the country speaks to how well they did!
Dibeit was selected to attend Mahiwa High School in the Lindi Region of Tanzania. He will study a PCB combination – Physics, Chemistry, and Biology. Tumsifu was selected to attend Kibiti Secondary School in the coastal region just outside of Dar es Salaam. He too will take on the ambitious PCB combination. Both of them have goals of becoming doctors! We're hoping they excel in their high school program so we can continue to help them pursue university studies.
Saidi was selected to attend Karatu Secondary School in Arusha – a lovely, cooler region of Tanzania that many know as the jumping off point for climbing Kilimanjaro or entering the Serengeti. He will study a HGE combination – History, Geography, and English. Saidi dreams of becoming a teacher in his future. He tried that role on for size recently when he was tutoring our other scholarship students during the winter break. We are also hoping that he'll go on to a teachers' college.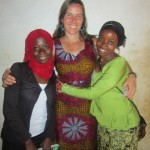 Our recent graduates, Hindu and Khadija, continue to do everything together. They had a job in Kasulu, but the commission nature of the work wasn't proving very lucrative for them. They are in the process of shifting to Dar es Salaam to give their best shot in the capital.
It's really amazing to see these young men and woman moving around the country with such confidence and excitement. They all come from Kiganza village, with the exception of Tumsifu who comes from Kagongo village. Both villages, nonetheless, are very small. The majority of people don't get to attend secondary school; there is no electricity in either village – with the exception of a few homes or shops that have cleverly harnessed solar power or gas-powered generators. Electricity is coming, however. There are power lines slowly making their way from Kigoma town, through Mwandiga and beyond to the villages with which we work.
Some of the challenges we still face as an organization are worth sharing with you. First of all, this program is still run solely by Lucas Lameck and me. Lucas has the responsibility of paying school fees for many children spread throughout various villages and schools – within and outside the Kigoma region. He does most of the travel by foot, which can be very exhausting during the period in which fees are due.
Fortunately, Tanzania is ahead of the game in terms of people being able to wire money through their mobile phones – so reaching the schools in other regions is not a problem. We still have secondary students studying in Kibondo, Dar, and Lugufu. Of course, even though we can send fees via mobile, Lucas still goes above and beyond to meet headmasters at our students' schools.
In March, he traveled to Kibondo and Lugufu to uncover the students' needs and challenges and to share those concerns with the headmaster. Among the main issues are the teachers' English language proficiency and lack of access to textbooks. The students' own lower proficiency still makes studying in English a challenge. Additionally, most students walk long distances to school – up to an hour each way. Lucas shared that he encouraged the students to study hard and continue to pursue their dreams. They are all well aware that this work is difficult and it requires that they dedicate themselves as much as they can to their studies.
In April, Lucas also met with our students' parents. They all expressed their joy at the support they are receiving from Project Wezesha and Girls Education International. They are happy the program is moving forward and some even said that the opportunity is a 'savior' for their children and their families. Lucas encouraged the parents to make sure their children get out the door on time to make their first classes. He also urged them to carve some time in the day after school for the students to study. Lucas encourages the parents by reminding them that without education, the community will not have doctors, nurses, pilots, and engineers. Lucas is always good for a motivational speech!
During June, school is out of session and all of our students were given financial support to secure tutoring. These extra sessions serve to review what they covered during the previous term, and to prepare for what's to come. They all value these sessions so much and say that in large part, this is what keeps their heads above water. Project Wezesha also purchased many textbooks for the students to share. They have texts to support their study of all subjects: chemistry, physics, math, English, civics, biology, and more!
Lucas reported that many of our scholarship students in secondary school are doing very well. We have several A and B level students! Simoni is one example – his teacher shared that he is the top of his Form Three class at Kagongo Secondary. His teachers say he is very bright and they are happy to have him in class.
Lucas is working on his next manager report and will have additional details on students' scores and general well being! As for myself, after two years as an Assistant Professor at the American University of Armenia, I am moving home to the USA to take a tenure track position at St. Michael's College in Burlington, Vermont! I'm hoping that this move will help me establish valuable connections for outreach and fundraising. I'm also hoping to involve some of my future MA TESOL students in teacher exchanges with Tanzanian counterparts – mutual learning for increased educational opportunities in Mgaraganza, Kagongo, Kigalie, Kalalangabo, and Mtanga – our primary village partners!