Hitaji Gets a Set of Wheels
Last summer, we visited the village of Kigalie to add two students to the Project Wezesha scholarship program. While we were there, the head teacher asked us to accompany him to meet a young man named Hitaji. Hitaji had an unfortunate story. (Ironically, hitaji means need in Swahili.) When he was 9 years old, he fell from high in a coconut tree. He was paralyzed from the waist down. Last year, when we met him – he was 15 years old. In the 6 years since his accident, he never left the village on the lake. He has spent much of the past 6 years lying in his bed.
He did make sure to maintain friendships in the tiny village, even though he was no longer able to attend school. (For whatever reason, being paralyzed and going to school were mutually exclusive.) Hitaji would drag (I hate using that word, but that is the best verb for his 'action') himself to the gazebo in the center of the village where the men and boys gather to talk. I'm sure when he was younger, friends would carry him. Now that he's bigger, he walks with sandals on his hands.
After the request came last year, I only had two days in Kigoma before flying home. Lucas and I went on a frantic mission to find a wheelchair. We visited the office of social services in town that issues wheelchairs to people in need. As with much business in Tanzania, the explanation of the process in place for this request escaped me. Apparently there is some list, there is some checking, there is some waiting, there is some 'tatizo' that we couldn't navigate.
So, we headed out of town to the stadium in Mwanga where we heard there was a man who made wheelchairs. This man was, himself, a paraplegic. He explanation to me and Lucas was that not only would we have to spend $300+ (I was willing), but we would have to go to the textiles market and buy all the materials. He got through about 4 different iron measurements, 3 screw types, info about the wheels and then started getting into details when Lucas shook his head and said, 'Ah Rai, it's too difficult. I think the time is not enough.' So, we gave up.
This year, on my second night here, I met a great young man named Muhsini. He has his own amazing story – from the death of both parents when he was a child, to living as a street child, to being sponsored to attend school in Kenya by a Canadian! Now he works as a guide to tourists in the area – taking them to Gombe, Mahale and escorting them on diving trips in the lake. Muhsini was sitting with us when I mentioned the story of Hitaji. I was feeling bad about going back to the village this year without a wheelchair. But not to worry – Muhsini makes a call to his brother in Dar es Salaam and next thing you know, we have a wheelchair coming by bus from the capital. I was skeptical about the potential for it to arrive safely, unescorted, but it came!!
Lucas, Maiko and I boarded a passenger boat on Tuesday morning with the wheelchair in tow. The passenger boat trip was an awesome experience. I had to take pictures and video with my mind because I knew if I pulled out my camera and tried to capture the colors and complexity of the scene, I would certainly piss someone off. I tried to channel the bravado of my photographer friend, the late Bobby Model, but I just couldn't do it.
What we experienced was the loading of people and goods for about an hour, followed by a super dramatic departure with anchor lines whacking everyone in the head and a collision with another big passenger boat. The boat was carrying people up the lake to villages along the shore between Kigoma and a village just shy of Burundi. Loaded into the boat was everything from bicycles, cement, water tanks and plastic chairs to bags of flour, bananas, fish and buckets filled with who knows what. There were men, women and children and babies lining both sides of the boat and tucked into the hull beneath. Chaos was Lucas' new vocabulary word for the day.
The passenger boat made a special trip to deliver us to the village. Normally it doesn't stop in this village, but for .75 cents each, we got front 'door' service to the beach of Kigalie. As we approached, I was super choked up. I was overwhelmed thinking about Hitaji and the way of life in Tanzania. Something that I can do so simply in 2 days has been out of his reach for 6 years – and no government support ever came. Fortunately, the Tanzania stoicism subdued my emotions and I was able to get through the delivery without shedding a tear. (I had my doubts on the boat!)
As we walked into the village (a short 100 meters gets us into the center), the children flocked around. I heard whispers of 'bicikeli' and 'Hitaji' (they call the wheelchair bicycle). They flanked us as we made our way toward his home. The women that were harvesting charcoal greeted us and again we heard 'Hitaji'. At the gazebo, all the men greeted us and confirmed their hunches – yes, this is for Hitaji. (Sidenote: One asked me if I was Jane Gooddall! That was cool… or, wait – how old is she now? I'm sure he was thinking of 1970's Jane.)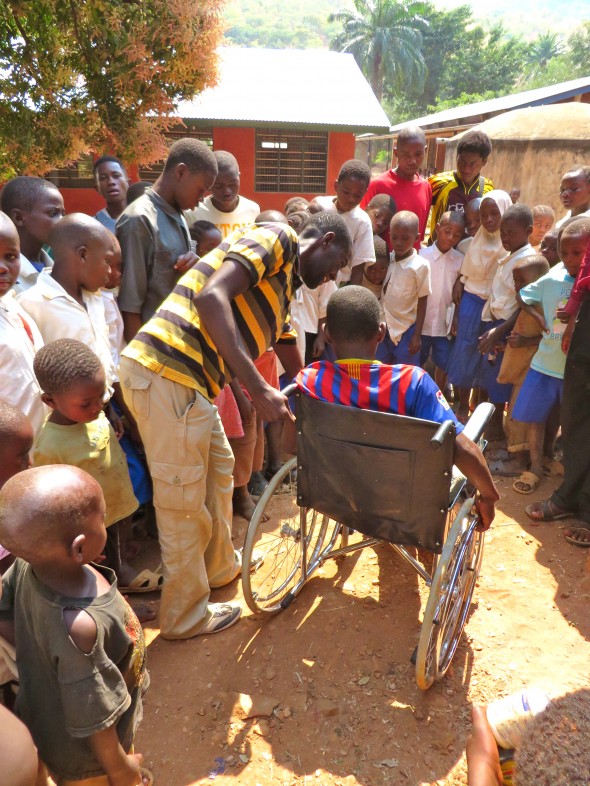 Finally, before even reaching his house we saw Hitaji. He was sitting outside the dispensary waiting to see the doctor. Dozens of children, men and women came to watch Hitaji get his wheels. Someone sent for his mother, who came quickly, showering God's blessings on us. Hitaji smiled and greeted us. With a little guidance from Lucas and a friend, he pulled himself up into the wheelchair and settled in.
Lucas showed him how to move forward and backward, use the breaks, steer, etc. Others agreed to help out in the days to come as Hitaji learns the way of his wheels and navigates the less-than-wheelchair-friendly terrain of the village. His mother looked on smiling, saying 'kwa kweli' (more or less translated as: For real or It's true). Then I asked Hitaji if he had any questions. The first words out of his mouth were: Can you help me go to school now?
I'm sure you can guess what my answer was. His head teacher will work with him to help him study and get the education he has missed in the years that passed since his accident. Again, I'm not sure why being able to wheel vs. crawl to school makes a difference, but now he will be able to sit at a desk with his classmates and begin to study.