Updates Since Amahoro Secondary School Opened
Here are some updates since Amahoro Secondary School opened. Since our big bash to open the school in January, school has been in full swing! The first term ended in May and the students enjoyed a summer break in June. Classes started back up in July. The teachers and villagers are thrilled about the school – parents never imagined they would have a secondary school right in the village.
Lucas met with some of the parents recently (see pictures) to discuss ways in which the parents can best support their children to be successful in school. Among the ideas they shared, parents are committed to making time after school for students to study. They are also going to make sure their children get up and out the door each day to arrive at classes on time. (You know how hard it can be to get teens out of bed! In Tanzania they're up with the roosters, but getting the sandals to the sand for the walk to school can be a challenge!)
The teachers are grateful for the opportunity to be teaching in such a lovely, tree-rich environment. There is always a breeze up at Amahoro and the views of the surrounding hills and forests of Gombe are stunning! But, most of the teachers are either staying with families in the village or commuting from town (not a short distance!). This set-up may ultimately result in discontent, unmotivated teachers or resignations. Our next initiative will be to work with the village and town governments to fast track the building of teachers' houses near the school.
In addition, we are planning to launch a campaign to help the school finish up its laboratories so that they have the mandatory labs and equipment to properly teach Chemistry, Biology, and Physics. Keep an eye out for information about those campaigns in a forthcoming update.
As part of the Girls Education International expansion into Tanzania, we have 15 girls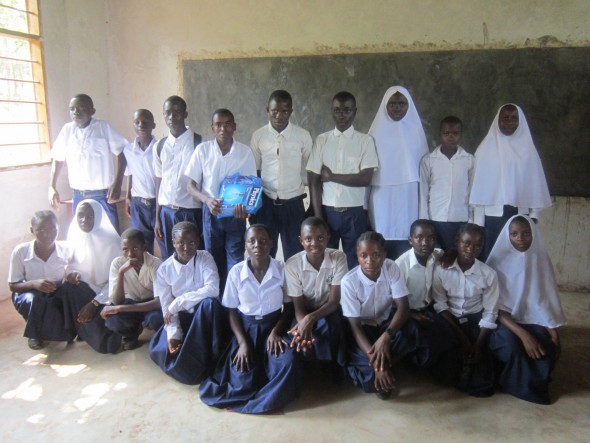 studying at Amahoro Secondary School. Project Wezesha continues to support all students in our scholarship program by paying for additional support classes (what they refer to as 'tuition') throughout the year. In this way, our students can stay after school and work with teachers to really dig deep into the subjects that present them with the most challenges academically.
My next trip to Tanzania will be December, at which time I'll be identifying teachers who wish to be involved in a two-way teacher training program with volunteer student teachers from other countries. It will be an ambitious project, but it's the area through which I think we'll see the most impact on education. Walls and books only do so much – the teachers really create the learning opportunities and if they're not motivated, prepared, inspired, and supported then things continue – status quo. We prefer to move education forward to ensure that more of our students reach high school, college and beyond!