2nd Annual Raise the Roof Drums up Local Support
Can you believe we're having the 2nd Annual Raise the Roof event? I hope one day I'll see a double-digit number in front of that event name! Like last year, the Woodshed in SLC, UT is hosting – generously donating their space for our cause! Local businesses, organizations and artists are really coming forward with their support of Project Wezesha again this year!
We'll have another silent auction and raffle. This year there will be one raffle draw at around 9:30pm. The silent auction will close with the final song by The Folka Dots at around 10:30.  Come out and see what the community has pulled together for you!
Event Details: Friday June 15th 8p-12a at the Woodshed on 800 South 60 East in Salt Lake City. See our Facebook Event Page and of course, 'Like' us on Facebook!
LAKE STREET GLASS by LAURA LEIGH KEMPER – GLASS JEWELRY
Laura Leigh Kemper of Lake Street Glass makes the most spectacular belt buckles, earrings and necklaces from glass that she repurposes. The colors and patterns that Laura pulls together have been a huge hit among men and women alike at her local trunk shows. For this event, you'll have the opportunity to take home some amazing items from her collection – including a belt buckle, earrings and a bracelet! Unfortunately, her site was recently hacked but should be up and running again soon, so I'll include the link for you to peruse when it's ready: Lake Street Glass.
REPERTORY DANCE THEATRE (RDT)
I just love nonprofits for nonprofits! RDT in Utah has donated tickets to one of their performances. The mission of RDT, as stated on their website is encouraging the creation, performance, perpetuation and appreciation of dance. RDT's primary focus is producing work of special importance which affects audiences on intellectual, emotional, aesthetic and kinesthetic levels, through the highest standards of technical training, performance, and production skills. If you've never been to an RDT performance, you should really start tracking their shows on Facebook . Read more about this wonderful, hard working group of artists on their website. Make sure to come out and bid and you might be seeing them sooner than you had planned!
SANSIVERA PHOTOGRAPHY
Sansivera Photography caputures texture, composition and story in the world around us and lets viewers enjoy the world in a way that's just a bit more edgy and exciting than what we experience on the regular. Sansivera Photography has contributed a photograph to our fundraiser and you're gonna wanna hang it on your wall! Check out her creative endeavors here: Sansivera Photography.
AVENUES YOGA – YOGA CLASSES
Avenues Yoga studio is located in a beautiful old mercantile building located in the Avenues (obviously!). The space has high ceilings, original brick walls and beautiful hardwood floors. There's something about the open, large space and the lovely instructors that makes you just feel at ease from the minute you walk in the door. Avenues Yoga has donated a punch pass for yoga classes. Whether you win this pass or not, you should make your way over and take a little time out to reflect and breathe in this time of acceleration in which we are all plugged in way too often – tethered to our devices. Let Avenues Yoga free you!
CHRISTINE McDONOUGH – PHOTOGRAPHY
Christine McDonough, a fellow Irish lass is a gifted photographer and graphic designer.  We first met when she came out to support Girls Education International at a screening of A Small Act, a documentary set in Kenya about how one small act really can have a huge impact.  I found out that after seeing A Small Act originally at the Sundance Film Festival, Christine became penpals with a student at the school in Kenya.  She's a kindred soul who wants to see positive change in the world – at all levels.  In this spirit, she has donated one of her beautiful photographs for this event.  See more of her work here: The Copper Shamrock
BLUE PLATE DINER
Who doesn't know and love the Blue Plate Diner! I suppose I'm biased because I know and love the owners, John and Tamrika. In fact – it's important to note that the absolute first and foremost reason that I'm even working in Tanzania is because of John and Tamrika! They introduced me to an individual that brought me to Tanzania as a volunteer in 2008. The rest is history! The Blue Plate Diner has donated a handful of gift certificates for our raffle. If you win, you'll be able to enjoy some seriously delicious burritos, eggs benedict with vegan sausage, milkshakes, burgers and more! Plus, it's where you wanna be and who you wanna be with on a weekend morning – so come on out and see if this is your lucky day! Learn more about how you can LOVE the Blue Plate Diner.
TONY CAPUTO'S MARKET AND DELI – INTRO to FINE CHOCOLATE CLASS
Tony Caputo's Market & Deli brings quality, authentic food products from Italy, Spain, France, Greece and other Southern European cities right here to Salt Lake City. Tony and his son Matt well known for their tasteful selection of European goodies. Also, in 2009 Caputo's was the first recipient of Salt Lake Magazine's "Best Food & Wine Educator." So, in support of Project Wezesha, Adrienna has donated a gift box with selected Fine Chocolates and chocolate sauce. Yum!! Caputo's Market and Deli has something for everyone – from an extraordinary deli menu to a cheese cave, a stacked chocolate bar selection and an in-house salame maker! Check out their website or even better – visit one of their three locations (downtown, 15th adn 15th or U of U): Tony Caputo's Market and Deli
BREWVIES CINEMA PUB – MOVIE PASSES
In addition to playing this year with his band, The Folka Dots, Andy Murphy at Brewvies has generously donated several movie passes, which we'll raffle off in two's so that you and a friend can bike downtown for dinner and a movie. Brewvies always has a great selection of movies to choose from – often funny and usually 'just the movie' you wanted to see! If you haven't been to Brewvies yet, you have to come out to the Woodshed, win some tickets and get on over there. Where else in Salt Lake can you eat a great meal, drink cold beers and watch a great movie on the big screen … nowhere! Gotta be Brewvies! Check out the website to scope the food and beer offerings and find out what movies are playing … like right now, it's Brides Maids and Horrible Bosses … Hilarious! Brewvies Cinema Pub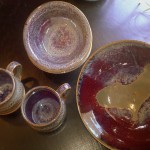 KIM HALL – POTTERY
Talented local climber and skier, Kim Hall is perhaps best known for her great laugh, her sense of adventure and her amazing survival of a 1,000 foot fall in Little Cottonwood Canyon last winter! She is less known (thought that's changing) for her amazing skills behind the wheel … in the pottery studio – but that's soon to change! Kim has again donated more beautiful hand thrown pottery including two mugs, three bowls and 2 large serving bowls. Come see what you can go home with!
THE FRONT CLIMBING CLUB – DAY PASSES & KIDS CAMP

The Front Climbing Club is the hub for the hardcores and newbies alike who love to boulder! You check your ropes at the door and just pull on your shoes and you're good to go. The route setting at The Front is stellar with some of the best climbers in Salt Lake City setting the problems that will progressively warm you up, push your limits and then stump you all together. In addition to great indoor climbing, The Front has yoga & pilates classes, ping pong, weights and cardio equipment – something for everyone! The Front donated day passes for our raffle and a one-week kids climbing camp for our auction – so come out and win, then pedal on over and spend the day getting psyched and strong! Learn more about The Front here: The Front Climbing Club
ROCKREATION – FIGHT GRAVITY CLASS

Rockreation Climbing Center is dear to my heart as I worked there for over a decade!! This gym has been around for a while and has top-rope and lead climbing options for those who like to rope up as well as a bouldering cave with lots of potential for exciting throws and body contortions. One of the strongest points of Rockreation is their education – for the novice and advanced climbers, they offer a wide range of classes and personal coaching. For this event, Rockreation has donated a Fight Gravity Beginner Climbing Class certificate – for TWO! The class certificate includes a week membership and rental gear. They have also donated a stack of day passes for our raffle. Check out their site and more information about the camps here: Rockreation Indoor Climbing
Misc. BOUTIQUE – VINTAGE CLOTHING AND ACCESSORIES
Misc. (pronounced 'Missy') is a vintage clothing and accessory boutique located in downtown Salt Lake City in a beautiful space shared by The Green Ant. Missy, the owner has a unique eye for quality, previously cared for vintage clothing, belts, purses, shoes, swimwear and jewelry. The majority of her shop caters to women, but she does have a small selection of vintage western shirts for men. I have yet to pop into Misc. without leaving with a little extra something for my wardrobe – even when my intention was just to catch up with Missy. It's impossible … just try it! I dare you.  😀 Missy has donated a gift certificate to her boutique for our event and it's generous enough to afford you a whole outfit, with accessories if you shop wisely!! You want this, ladies! Misc. doesn't have a website, but you can check out her style on her Facebook page here: Misc. Botique
JOSHUA TREE SKIN CARE – SALVES, BALM, SUNSCREEN & MORE
Joshua Tree Skin Care has you covered – literally! They provide organic skin care for the active lifestyle. They make amazing, all natural products to soothe chapped lips, protect sun exposed skin, heal climber's worn fingertips and even keep that little fanny happy in the saddle! They gave us lots for the raffle and auction, so bring your skin to the Woodshed and prepare it for a pampering! Visit JTree.
JEN LOPEZ – GIRL GENIUS
Local artist Jen Lopez is very talented with her hands and can turn most materials into a work of art. Her pottery has a particular uniqueness about it. The mugs she has donated for this auction, for example, have undulating mouths and amazing texture. You just want to wrap your hands around them and close your eyes to imagine what Jen was thinking when she shaped them… ok, maybe that's just me. Check out her unique style here at her etsy page: Blue Stegosaurus
PETZL
Petzl is another one of our Wasatch Range outdoor equipment companies. Petzl is a leader in all things climbing – making lightweight climbing harnesses that give you peace of mind, leading the field with efficient automatic belay devices, ensuring that our search and rescue teams are well equipped and of course pioneering lighting for outdoor activities that we just have to do at night!

They've donated a headlamp for the event, but they do so much more than lighting – so check them out! Petzl
MILLCREEK CAFE & EGGWORKS
Millcreek Cafe and Eggworks has a great menu of breakfast dishes, buts also serves up delicious burgers, paninis and wraps. The space is clean, modern and bright! Open from 7a-2p daily, they make the perfect stop on your way to the canyons to play in the outdoors! They donated a certificate for the event, so come see if you're the lucky winner! Learn more about them here: Millcreek Cafe and Eggworks
KABERAMAIDO COOPERATIVE
Kaberamaido Cooperative is a nonprofit that operates in Uganda, Nepal and Bolivia working with communities of women by supporting them as they launch self-sustaining enterprises. Kaberamaido Cooperative has donated a lovely, chunky necklace made by the widows of Uganda for our auction. Uganda for Tanzania! Love it! View this Facebook album to take in some of the amazing crafts that Kaberamaido Cooperative produces.
PATRICK TUAO AH MU
Patrick Tuao Ah Mu is one of the most talented, disciplined men I know. His artistic crafts include an amazing talent for woodwork. Patrick can take pieces of scrap wood that no one would find anything special about and turn it into a high quality piece of furniture on the large end or beautiful, fine jewelry. He has mastered the art of designing Hei Matau necklaces. Hei Matau is the fishing hook of the New Zealand Maori culture creation story. It goes like this: A young man named Maui fished up the North Island using a hook made from the jaw of his grandmother – the fish-hook therefore represents the power and influence of the ancestors. The Hei Matau is also considered a talisman – bringing good luck and protection during a voyage. You better come on down and get your protective Hei Matau with mother of pearl inlay – gorgeous!
MAZZA MIDDLE EASTERN CUISINE
Mazza Middle Eastern Cuisine has two locations – 9th and 9th and 15th and 15th – and we're pretty happy about that! Mazza has the most amazing dishes! I'm always in the mood for the baked eggplant sandwich and of course, the hummus and baba ganooj is like nothing you've ever had before. I know – hummus is hummus, right? No! Mazza's hummus is proper! You can also enjoy some delicious wines from Lebanon and other regions of the world. Make sure to check out their patios this summer. They've donated a gift certificate for our event, so come on out and tempt your palate! Mazza Cafe
EVA – RESTAURANT
Eva is a small plates lounge with a cozy little cocktail bar. The first time I went to Eva, conversations from all tables trickled into one another. It was a late night in the summer and I felt like I was dining in Italy where the communal style is more common. Eva is intimate and delightful! The dishes are delicious and their signature cocktails are a treat. They have donated a nice gift certificate, but whether you win it or not, hit your bike and ride downtown to enjoy a little taste cozy, community dining. Read more here: Eva
THE BAYOU – RESTAURANT
Beervana! The Bayou is Salt Lake's go to spot for over 200 beers from around the world – full strength in bottles from Austria, Ireland, Czech Republic, Australia and beyond! They also have lots of local brews on tap. Their menu is stacked with southern, cajun style food from the bayou – crawdad poppers,  blackened catfish, and of course the famous mixed sweet and regular potato fries with yummy fry sauce! They've given us a few items for the raffle, including beer glasses, t-shirts and a gift card! Check 'em out! The Bayou
SQUATTERS BREWERY 
Squatters Brewery is pretty amazing! They have a great menu with the most amazing Ahi Tuna salad and the 'good' kind of beef – organic, grain fed, local! In fact, whenever possible they support and buy local. They partner with many companies around SLC that you already know well and when they have to look beyond Utah, they seek out organic and conscious food suppliers. They have donated a gift basket for the event with a gift card that you can use to treat your lover or just fill your own belly! Check them out: Squatters Brewery
UINTA BREWING COMPANY
Uinta Brewing has been keeping us happy along the Wasatch for decades, making brews and labels to put a smile on our face after a long day in the mountains or while we're listening to music at our favorite outdoor venue. For our event, they've donated a tour of the brewery with a tasting of all they have on tap (if you can handle it) for up to 15 people!! Read more about the brews you love best: Uinta Brewing
BLACK DIAMOND EQUIPMENT LTD
Black Diamond has always been at the forefront for outdoor equipment – whether you plan to climb rock or ice, ski down a chute or tour up a mountain, backpack for a week or just sit around a campfire drinking whiskey with friends, Black Diamond has you covered! Located in Salt Lake City, this 'little' business has been keeping folks happy and safe in the outdoors for decades! They have donated a few of their headlamps this year, so make sure you're ready for the next nightime trail run! Check them out here: Black Diamond Equipment
IME UTAH – MOUNTAIN SPORTS STORE
International Mountain Equipment, Inc. (IME) is a great little mountain sports shop tucked around the corner from REI on 3300 South in SLC. The guys that work in IME are lifers and know pretty much everyone that walks in the door. If you go there, and they don't know you – make sure you plan a little extra time to get to know them! You won't regret it! IME is the quintessential local shop which thrives on the climbing and snow-riding community. They carry everything from climbing, camping and skiing gear to maps, books and videos to keep you safe and make you rad! They've very kindly donated a Black Diamond mini-lantern and Petzl headlamp. Check out what IME has to offer here: IME Utah
GREAT BASIN CHIROPRACTIC – COMPLETE WELLNESS ASSESSMENT
Dr. Mark, as he's known by his patients, offers integrated chiropractic care inspired by his love of the natural world. The aim of his practice is to promote spinal health by enhancing overall health. He was contacted about this event by one of his patients – a friend of mine – who would likely not be standing upright if it weren't for Dr. Mark. If you've ever wanted a complete evaluation with a focus on your spine's health and how it affects your nervous system and more, then this is the ticket item for you! He has donated a complete wellness assessment, including report findings and a plan for moving forward. Read more about Dr. Mark and his practice here: Great Basin Chiropractic
MD SPARKS – JEWELRY
Monica is the styly, local Salt Lake City gal behind MD Sparks Jewelry. Her earrings and necklaces are delicate, well-made and lovely! It has a vintage look and feel, but it's made newly by Monica with attention to femininity and fun. She has donated a lovely Delicate Rose necklace and an amazing locket. I'll be competing at the bidding sheets for these items, for sure!
RAI FARRELLY –  PHOTOGRAPHY
I'm not much of a photographer, as in professional, but I do love to capture moments in life that inspire me to take pause, breathe deep and just appreciate living. I've printed and framed three images for the auction. One depicts Babu, Saidi's grandfather in Kiganza, Tanzania who has won some hearts in years past through the blog and photo gallery.  There are also two images captured in Amsterdam. Maybe you'll be taking 'me' home to hang on your wall!
Thank you everyone for your support! Thank you Rebecca Katz, Manju, Hadley, Hilary, Jessica, Valerie, Terra, Martina and …. everyone else for helping me make these great connections in our community! ~Asante Sana!~